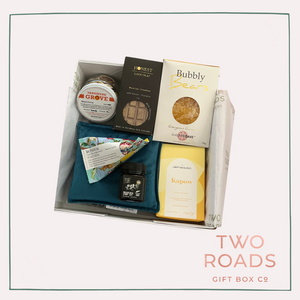 Get Well - Wheatbag & Treats
Sale price Price $115.00 Regular price
Tax included.
Shipping
calculated at checkout.
Slow down for a while, take a break and get better soon. All the essentials to try be on the mend again soon.
*Kapow Tea - Kawakawa, lemongrass, cardamon and chilli. 15 Tea Temples. A bold warming blend, sometimes described as an NZ version of Chai. Caffeine Free.
*Manuka New Zealand Honey UMF 12+ 115gm
*Hazelnut Gianduja Filled Chocolate Tablet 42% Cacao (milk). Hand made in New Zealand using one of the world's finest chocolates, filled with their homemade hazelnut spread then sprayed GOLD to reflect its amazingness ! 70g
*Foot Soak - Vanilla, peppermint & lemon balm. 50gm
*Black Velvet Wheat bag in 3 sections. Long for around the neck or snuggling up with to keep warm 52cmx14cm. Available in other colours.
*Bubbly Bears - Soft and chewy and flavored with our favorite bubbly, these gummy bears make for the sweetest treat! 100g
*Tangmere Citrus Dried - Sliced Citrus 25g Jar- Fab in a hot drink, gin or even in your cup of tea.
Packaged in our Signature Green Sleeve Gift Box with a gift card.