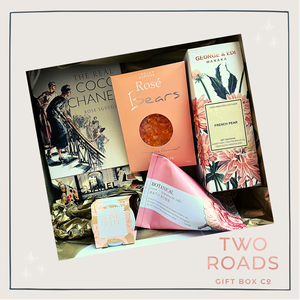 Classy & Fabulous
Sale price Price $150.00 Regular price
Tax included.
Shipping
calculated at checkout.
Classy & Fabulous - We all know someone like this.
* "The Real Coco Channel" Book - Coco Chanel lived her own life as a romantic heroine. Fueled by 19th century literature, she built a life which was partly myth and partly factual. She was the fashion designer everyone admired. The business woman whose fortune was impossible to track. This biography explores her life from her troubled and poor past to the opening of her first hat shop, passions and secrets; the biography also draws parallelisms between myths and facts and how, and if ever, they match at all. The biography also features chapters on the Chanel Maison and the creation of her iconic trademark as well as her 'little black dress' and 'Chanel No 5'. Finally, the biography ends with a reflection on how the myth of Coco Chanel is represented today in pop culture. Hardback
*Bubbly Bears - Soft and chewy and flavoured with our favourite bubbly, these gummy bears make for the sweetest treat! 100g
* Rose & Himalayan Salt Bath Bomb by Botanical- A natural fizzing fun treat for your bath. Beautifully scented Botanical Rose Bath Bomb will leave your skin and mind feeling refreshed, calm and soft
* Rosé Jelly - Heaven on a plate, this wine-soused jelly is for the hedonistic pleasure seeker! Pair with your favourite cheese and our cheddar & poppyseed wafers, or use to de-glaze your pan when cooking 120ml Gluten Free
* Reed Diffuser - In Bloom - The essence of warm summer days in voluptuous bloom, this is the queen of white florals and she is intoxicating and a little flirty. This enables you to have a  beautiful fragrance in the background of your home. Hand poured in Wanaka 100ml Fragranced Oil 
Packaged in our Signature Green Sleeve Gift Box with a gift card.